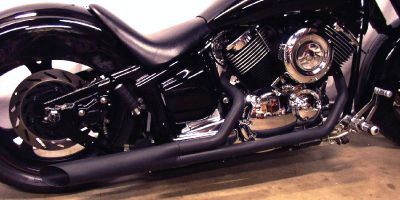 Vertical Slash Black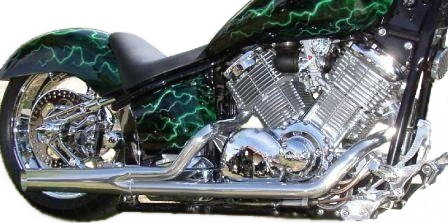 Vertical Slash CeramiKrome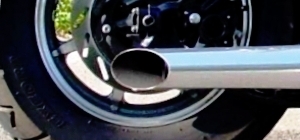 Vertical Slash CeramiKrome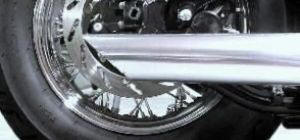 Horizontal Slash CeramiKrome


V Star 1100 Monster Pro Exhaust
When Performance REALLY matters, our MONSTER PRO Series exhaust pipes really step up. Featuring our Hi Flow collector which causes both cylinders of your v-twin to work together as a combined asphalt pounding unit like no other pipe available. With our patented changeable performance baffles, expect to be envied and impressed. Our pipes are ceramic coated (internally and externally) to withstand constant high heat of 1200F degree constant and 1600F degree intermittent. These pipes will not blue and will give your bike an attitude, sound and performance that demands respect!
1 piece construction means less weight and no leaking clamps or extra parts
Unmatched Deep Tone
Includes Removable Baffle
Other baffle options are available
Available in Black or CeramiKrome
Mounting hardware included
Easy installation
Limited 1 year factory warranty
Fitment:
V Star 1100 Custom (all years)

V Star 1100 Classic (all years)
Add Additional Length
For saddlebags or personal customizing. Measure how many inches past the rear axle you would like and select below
OPTIONAL CUSTOM TIPS

BULLET

GROOVE

SPEEDBALL

BLITZ

EXCEL

RIVAL

BLITZ

EXCEL

RIVAL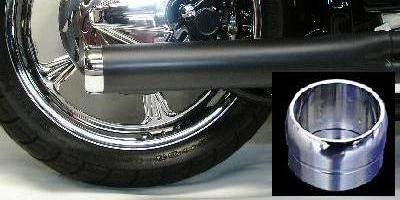 Straight Cut shown with Bullet Tip

Optional Exhaust Tips
Optional Radical tips to customize the Straight Cut Monster Pro Pipe
Must select "Straight Cut" option above
| | | |
| --- | --- | --- |
| Optional Bomber Tips | | $49.95 |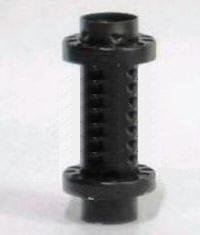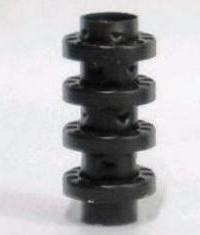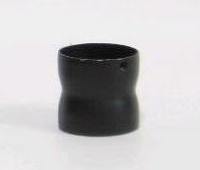 Monster Pro Exhaust Optional Baffles
Use these baffles to Fine Tune your exhaust for your riding style. Use the 2 RING baffle to mellow the sound of your Monster Pro Pipe, and add additional mid / low end power. Use the 4 RING baffle to tame the sound of your Monster Pipe, and add some additional low end power. Or add the Vortex RACE BAFFLE which causes the exhaust to "spin" as it exits the pipe for more top end performance, along with a deep sound that is well worthy of the name "Race". Baffles on Turnout Tip Pipes cannot be removed.
| | | |
| --- | --- | --- |
| 2 Ring Replacement Baffle | | $44.95 |
| 4 Ring Optional Baffle | | $49.95 |
| Vortex Race Optional Baffle | | $41.95 |
These Baffles are intended for use in Monster Pipes only and will not work in pipes from other manufacturers. Changes in jetting may be required to gain maximum performance. May not be legal in all areas.