Pingel High Flow Fuel Valve
At just 28 oz per minute, a stock petcock can starve even a stock engine. Pingel's High Flow fuel Valves are designed to feed even the most fuel thirsty engines out there. Features, ON/OFF/RES positions. Comes with everything needed.
Sug. Retail $159.95
PCS Price $149.95
4211-CH62C,
(not for Fuel Injected Models)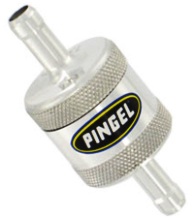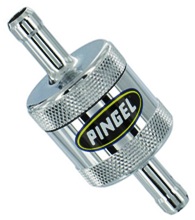 Pingel Fuel Filter
The Pingel fuel filter is built to appeal to the true motorcycle enthusiast. This filter offers the same high quality as Pingel's fuel valves and is designed and machined from billet aluminum. Close attention to detail and aesthetic quality is the standard and the result is a beautifully finished product that includes a cleanable bronze element that will last a lifetime. These filters are the only filters designed to meet the high flow requirement needs of the Pingel Power-Flo™ gas valves, as well as today's high flow carburetors. This fuel filter is 1-3/16" O.D., with a body length of 1-1/8". Filter finishes are available in chrome and machined satin aluminum.
Satin
Sug. Retail $45.95
PCS Price $43.95
Chrome
Sug. Retail $52.95
PCS Price $50.95
SS1C, SS1P