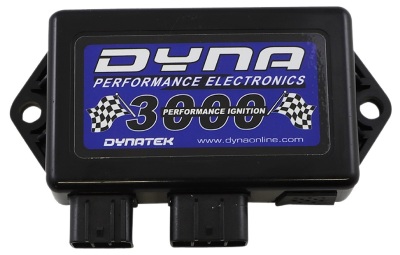 model shown above is "Dual Plug" ignition
Which version is for my bike?

V Star 1100 Dyna 3000 Electronic Ignition
Dyna 3000 Digital Performance Ignition gives you increased power, torque and peak horsepower over the stock factory ignition. Experience larger gains and greater engine efficiency when used with after-market performance products. The Dyna 3000 makes it all work better, every time.
8 Selectable Advance Curves
8 Selectable Rev limits (increased rev limits over stock)
Status LED
Easier Starting
Plug and Ride, 5 Minute Installation
Uses all Factory Sensors
Mounts Directly to Factory Location
Uses Factory Coils
Reverse Battery Protection
Fitment:
All Models (1999 - 2005)

California Models (1999 - 2003)

Models with Dual plug Ignition
Sug. Retail $309.95
PCS Price $254.95
D3K7-2

All Models (2006 - current)

California Models (2004 - current)

Models with Single plug Ignition

Will not work on overseas models with electronic ignition lockout
Sug. Retail $309.95
PCS Price $254.95
D3K7-8