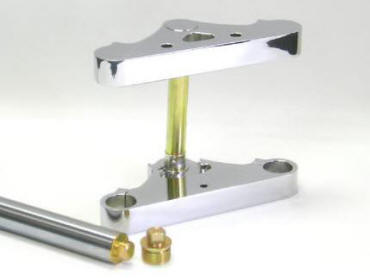 Chrome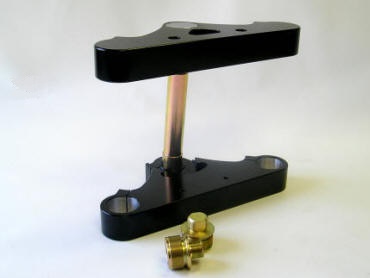 Type II Black Anodize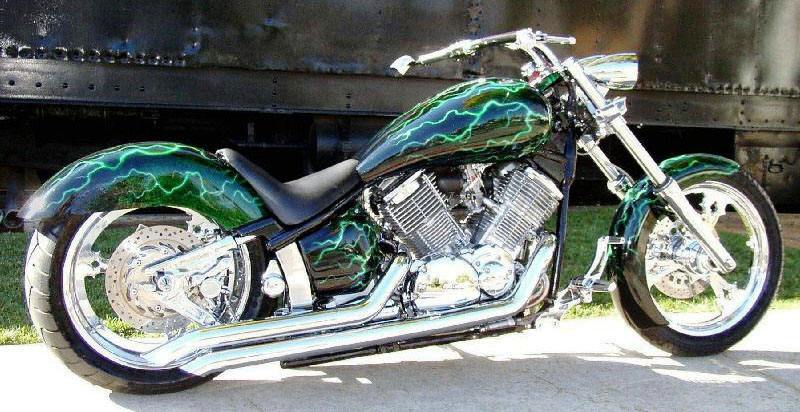 Shown with 6 degree trees and 2" over fork tubes
with rear air ride suspension

V Star 1100 6 Degree Triple Tree Rake Kit
With over a year in planning, designing and testing, Pacific Coast Star's 6 degree Triple Tree Rake Kit is the right rake kit for your V Star 1100. Our trees were designed specifically for V Star 1100. Our trees do NOT require any extra spacers or special adapters which other manufacturers use to make their "universal" trees fit multiple bikes.
Manages Rake and Trail to Improve handling
Does not require any spacers or adaptors which can cause undesired fork torque / twist
Uses stock fork tubes, axle, races and bearings so replacement parts are as close as your Yamaha dealer
Has hidden fork tube cap tops to create a clean, smooth top tree and lengthens fork tube length by approx. 1 1/2"
Available in Chrome or Type II Black Anodize
Manufactured and designed in the U.S.A.
Longer fork tubes are available if needed

Fitment:
V Star 1100 Custom

V Star 1100 Classic

V Star 1100 using Single hole "aftermarket" headlight mount
The V Star 1100 "Classic" model has upper fork tube cosmetic tin covers. The rake tree is not designed to work with the tins installed.