Since 1948, Barnett clutch plates have been made from the finest materials available. Through research and development, we are constantly striving to offer the best possible friction material for your Yamaha Star. Barnett tempered steel drive plates go through a vibratory de-burring process and then are quality checked for flatness to provide optimum performance.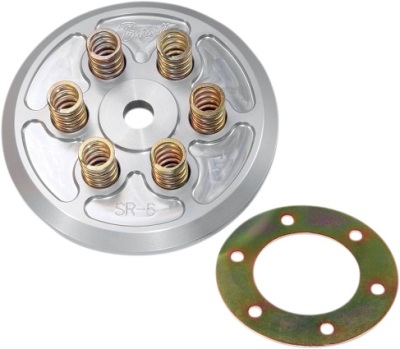 V Star 1100 Barnett High Performance Clutch Spring Conversion Kit
These billet aluminum pressure plates eliminate the weak OEM diaphragm type spring, and replaces it with 6 individual coiled springs. This allows greater tune-ability, more positive linear clutch pressure around the entire clutch plate, and longer clutch plate wear. We also offer the 64 lb upgrade springs for heavy or high performance riding.


Sug. Retail $182.95
PCS Price $163.95
High Performance 64 lb Spring upgrade
Sug. Retail $23.95
PCS Price $19.95
511-90-10006, 501-64-06088