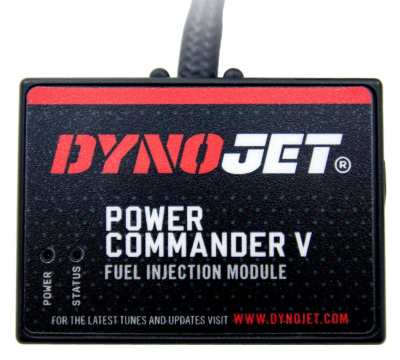 RS Warrior Power Commander 5
The New Power Commander V is loaded with tons of new features for your Warrior. Below you will find some Power Commander V features.
Reduced size from PCIII USB (less than half of the size of PCIII)
USB powered from computer (9 volt adapter is no longer needed for programming)
2 position map switching function built in (map switch not included)
Gear input (allows for map adjustment based on gear and speed)
Analog input (allows user to install any 0-5 volt sensor and build an adjustment table based on its input such as boost or temperature)
With gear position input (sold separately) connected, the PC 5 is capable of allowing each cylinder to be mapped individually and for each gear.
Unit has a -100/+250% fuel change range (up from -100/+100% on the PCIII).
10 throttle position columns (up from 9 on PCIII USB)
Enhanced "accel pump" utility (increased adjustment and sensitivity ranges)
Capable of Auto tuning with the Optional Auto Tune Module shown below.
Fitment:
Sug. Retail $419.95
PCS Price $407.95

Package Special
Power Commander V with Auto Tune module

Sug. Retail $724.90
PCS Price $648.95
22-011