Pacific Coast Star / Victory / Indian Gift Certificates are perfect for every Cruiser Customizer or anyone looking for the perfect gift.
Please call us if you have any questions or special handling concerns. We will be happy to help.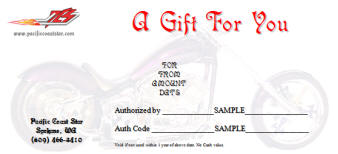 Certificates will be mailed via USPS the day after the order is placed.
$2.00 shipping per certificate will be added.
All Certificates are void if not redeemed within one year of date purchased.