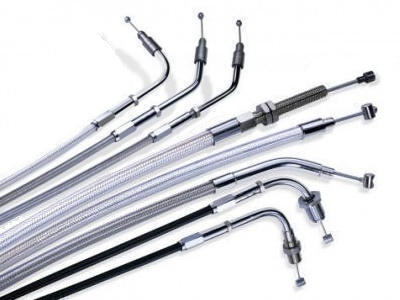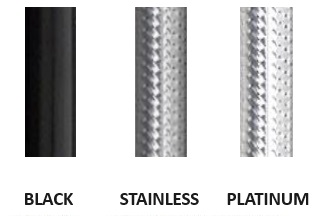 BLACK (braiding is not visible, solid color)
SMOKE (braiding is slightly visible through coating)
STAINLESS (braiding visible, most common color)
PLATINUM (braiding visible, chrome like braiding)
Individual Lines, Custom Lines and Lengths are available. Please call

V Star 1100 Stainless Control Cables
Improve your control and performance or just add a finishing touch to your ride. Our Stainless Braided cables are the highest quality available for increased performance and perfect fit. Our cable kits come COMPLETE to replace ALL of your cables.
Full sets include:
Push and Pull Throttle Cables, Choke Cable, Front Brake Line Clutch Cable

Includes New Chrome Banjo bolts and copper crush gaskets

UV Coated to protect the cables and your bikes finish. Guaranteed to not discolor from sun exposure

Clutch Cables come with High Efficiency Teflon coated inner wire for longer life and much smoother action, and reduced effort
| | | |
| --- | --- | --- |
| Stock Length | | $364.95 |
| +2" to +6" | | $414.95 |
| +7" to +15" | | $424.95 |
| | |
| --- | --- |
| Platinum Cable Upgrade (full set) Add | $148.00 |
Note: Our front brake lines include a single line from the Master Cylinder down to the splitter below the lower triple tree, and 1 line from the splitter down to each of the brake calipers, just like the stock setup and very clean. Some companies sell you 2 long individual lines that go from the Master Cylinder to each brake caliper which just adds more busy unattractive cabling.
V Star 1100 Stainless Rear Brake Line
Includes New Chrome Banjo bolts and copper crush gaskets

UV Coated to protect the cables and your bikes finish. Guaranteed to not discolor from sun exposure
| | | |
| --- | --- | --- |
| Rear Brake Line (Stock Length) | | $49.95 |
| | |
| --- | --- |
| Platinum Cable Upgrade Rear Brake Add | $18.00 |